Please visit Chad's new site at:

Welcome! Please meet our beloved son, Chad, and learn how his life impacted so many other lives.

From Chad's Obituary, June 10, 1986:
Chad Phillip Pendergrass, 13, an eighth grade student at Henderson Junior High and a resident of the Cokesbury community, died this morning at Duke Medical Center.
He was born in Vance County on September 21, 1972, and was the son of Phillip and Carole Powell Pendergrass.
The funeral will be at 2 P.M. Thursday at Gillburg United Methodist Church by the Rev. Wade Crabtree and the Rev. Frank Sossamon. Burial will be in Sunset Gardens.
Surviving, in addition to his parents, is one sister, Audrey Pendergrass, of the home; his paternal grandmother, Mrs. Lee Allen Pendergrass of Norlina; and his maternal grandfather, Paul Powell, of Lock Haven, PA.
The family will receive friends at Flowers Funeral Home from 7:30 to 9:00 P.M. Wednesday. The body will be taken to the church one hour before the funeral service.
Pallbearers will be Kevin Pruitt, Glenn Strum, Steve Fisher, Tom Peoples, Chuck Pendergrass, Johnny Patterson, Jimmy Allgood, and Tuan Tran.
Honorary pallbearers will be Chad's eighth-grade classmates at Henderson Junior High School.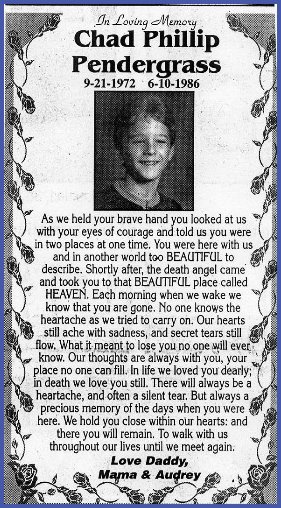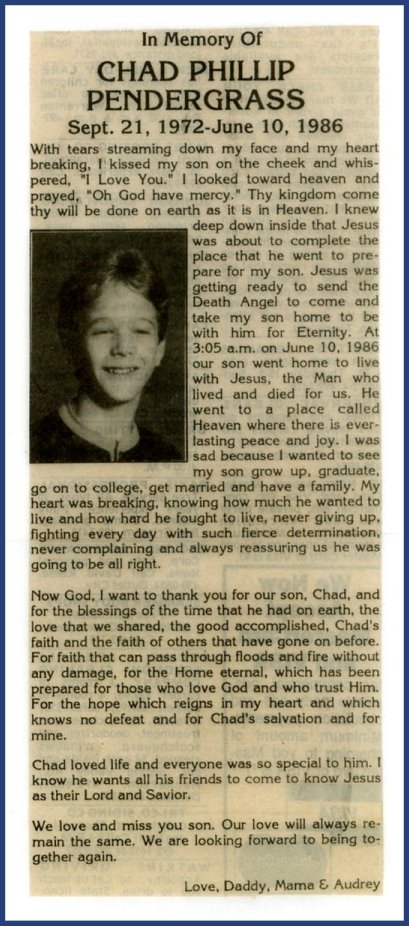 Grief remains one of the few things that has the power to silence us.
It is a whisper in the world and a clamor within.
More than sex, more than faith, even more than its usher death,
grief is unspoken, publicly ignored
except for those few moments at the funeral that are over too quickly,
or the conversations among the cognoscenti,
those of us who recognize in one another
a kindred chasm deep in the center of who we are.
Maybe we do not speak of it because death will mark all of us, sooner or later.
Or maybe it is unspoken because grief is only the first part of it.
After a time it becomes something less sharp but larger, too,
a more enduring thing called loss.
Perhaps that is why this is the least explored passage:
because it has no end.
The world loves closure,
loves a thing that can, as they say, be gotten through.
This is why it comes as a great surprise to find that loss is forever,
that two decades after the event there are those occasions
when something in you cries out at the continual presence of an absence.
Anna Quindlen

Please visit the beautiful quilt made for Chad by Elaine of "Spreading Smiles" which was originally on the "Spreading Smiles" site, by clicking on the following URL:

Click on the following star to view Chad's star on the Heavenly Lights Children's Memorial list.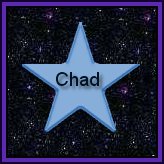 I would love to have your comments in Chad's Guestbook!